COVID SAFETY POLICY
Mask policies for each event may differ according to the needs of the artist who is presenting. We encourage high quality masks, full COVID vaccination, and boosters! Masks available at the door if needed.
---
May 6, 7:30pm
An Evening of Improvisation
An evening of improvisation at Performance Works NW reunites Oakland-based saxophonist Wilson Shook and Portland-based Jean-Paul Jenkins in a duo of free improvisation, in addition to It's OK Girl, the project of choreographer and performer Danielle Ross with saxophonist Ben Kates, and electro-acoustic vocal improviser stephanie lavon trotter.

Saturday, May 6th, 2023
Doors at 7pm, Show at 7:30pm.
Sliding scale $5-10 at the door
Full event info
ALEMBIC CO-PRODUCTION
---
June 3 || Kristen Yeung + Sadie Leigh
Elsewhere/Otherwise
Elsewhere/Otherwise is a dance theatre performance, featuring original choreography and sound co-created by Kristen Yeung and Sadie Leigh. This work is a vehicle and a vessel for processing the deeply personal and universally shared experience of moving from one place to another.

Saturday, June 3 at 7pm
Full event info
PWNW PUBLIC ACCESS

---
June 8-10, 16-17 || Spring 4th Productions
Apollyn Delivery Service!
Spring 4th Productions
Ian Sieren and Toby Gollihar present Apollyn Delivery Service! an original dark comedy in 2 acts.

June 8-10, 16-17
7:30pm
$12 in advance || $15 at door
_______________________
PWNW PUBLIC ACCESS
---
June 11 || Antero Alli
Sacred Rites || Discussion and Book Signing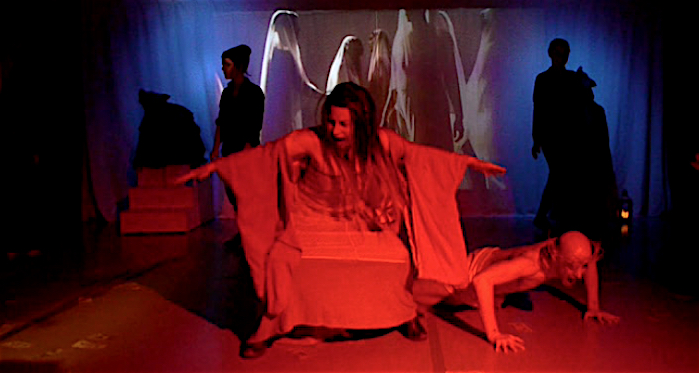 In this rare public presentation, Antero outlines the principles and methods of a paratheatrical medium he has developed since 1977. He will read excerpts from his new book "Sacred Rites" — sharing his personal experiences doing this work in both non-performance and performative modalities. Brief Q&A to follow + books for sale.

Sunday June 11, 7pm || MORE INFO HERE
_______________________
PWNW PUBLIC ACCESS
---
June 24 || Imposter/Switch
Saturday, June 24 8pm
$5-$15 cash or venmo at the door
Imposter/Switch is a newly launched quarterly interdisciplinary arts exhibition/performance, co-curated by Co-Curators Kennedy Verrett (music) and Marissa Rae Niederhauser (dance, video, performance art) that celebrates the imposter syndrome living in each of us, inviting artists to courageously 'fake it' wearing the [creative] mask of another artist. Genre chosen by random drawing.
Artist lineup + full event info
____________________________
ALEMBIC CO-PRODUCTION

---
July 8-9 || Emily Jones + Hannah Krafcik
Aesthetics Project
Aesthetics Project (working title) interweaves sculptures with spoken text and choreography in a performance lecture that explores the mysterious connection between Aesthetics and Intuition. We began this project with a focus on sensory processing, asking: How do aesthetics support (or derail) our processes of self-regulation and self-determination? What causes us to seek out certain forms of stimulation, e.g. hues of color or sensations of texture? How do these inclinations help us draw near to and develop affinity with one another?
____________________________
ALEMBIC CO-PRODUCTION